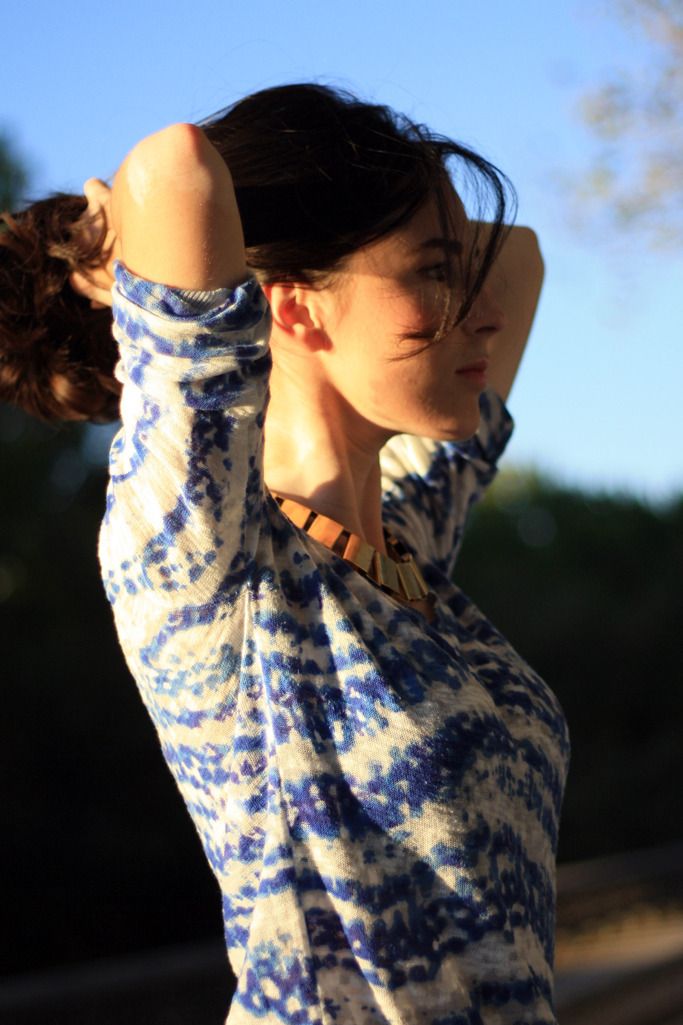 Shorts y zapatos/Shorts and shoes: Zara - Top: Mango - Collar/Necklace: de mi hermana/borrowed from my sister - Bolso/Bag: Vintage

En algún post pasado puse una foto en la que se intuía la combinación que más he usado este verano. Pillé este jersey en las rebajas de Mango y dije: "¡Aahhh!, ¡qué guay con pantalones blancos y mis tacones amarillos!". Lo dije en voz alta y en un tono que hubiese avergonzado a mi madre, pero en ese momento estaba tan contenta que no me importó que la gente me mirase.
Sea como sea, lo importante es que os fijéis en lo guay que queda el azul con el amarillo y que dejéis de lado el peinado (idea de la peluquera, lo juro) y la sonrisita indolente que hacen que estas fotos me recuerden a un reportaje del Hola. Gracias al cielo, ver la foto de los tacones en el aire y acordarme del ridículo que tuve que hacer para sacarla hace que la idea anterior se borre al segundo.
Y bueno, aunque no os puedo contar nada aún, estad atentos estos días, ¡van a pasar cosas chulísimas por aquí!
English version:
Some posts ago I showed you a photo in which you could barey see one of my fav outfits this summer. As soon as I spotted this top on Mango, on sales, I thought: "Ooooh! This will look great combined with white pants and my pastel yellow heels!" Actually, I said that in loud voice, and in such a tone that would have embarrassed my mum. The thing is I was so excited in that moment that I didn't care about people staring at me.
Anyway, it's important that you focus on how cool is the mix of blue and yellow, and don't pay attention to my hair-do (hairstylist's idea, I swear) and the indolent smile I'm wearing. Both things make these photos remind me of a Hello! magazine editorial. Thank goodness, when I see the photo with my heels pointing to the sky and I remember my embarrassment when taking it, the Hello! idea goes away at once.
Last but not least, and even though I can't say a word about it yet, please stay tuned because great things are coming to this blog soon!