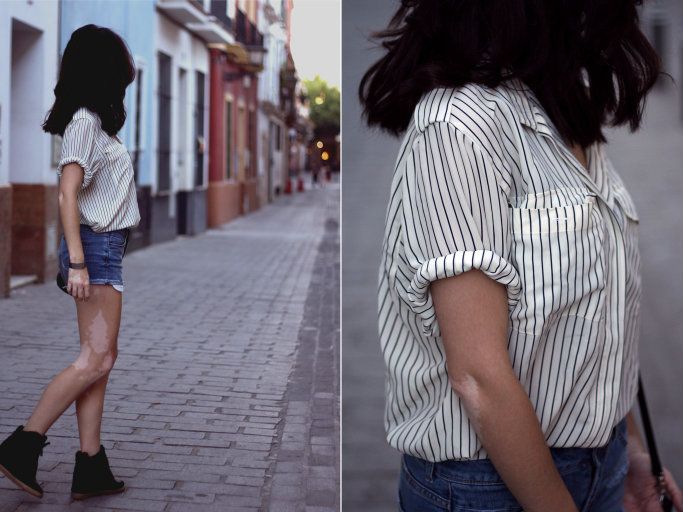 Camisa/Blouse: Antonio Pernas - Shorts: H&M - Sneakers: River Island - Bolso/Bag: Bimba&Lola - Brazaletes/Armcuffs: Asos
Reconozco que la primera vez que vi el modelo Willow de Isabel Marant no me gustó demasiado, aunque me entusiasmó eso de medir 7 centímetros más sin llevar, aparentemente, tacones. Cuando empezaron a proliferar copias y copias de este modelo empecé a hacer mi propio estudio de mercado, y tras recorrer prácticamente todas las tiendas online del mundo (y sin ganas de esperar a las colecciones de otoño/invierno) me decidí por las de River Island, que podéis encontrar
aquí
. Huelga decir que me las puse el mismo día que llegaron y que moría de calor, pero por lo demás estoy contentísima con ellas.
La blusa es otra muestra más de las grandes cosas que puedes hallar en armarios ajenos (el de mi madre): sin ningún objetivo especial fui a mirar qué me ofrecía y encontré al fondo de un cajón la perfecta blusa de rayas que, por supuesto, me puse inmediatamente.
English version:
I must confess I didn't very much like the Isabel Marant Willow sneaker at first sight, although I secretly loved the idea of being 7 cm taller without, apparently, heels. Soon, clones and clones started to spread, and I started my own research. After considering almost every online-store in the world (and refusing to wait for the a/w collections) I decided to try the hidden wedge of the River Island model, that you can find
here
. No need to say I put them on the very day I got them, and despite record heat, I'm very happy with them.
This blouse is another sample of the great things you can find in your mum's closet. I didn't have a specific objective in mind when I found this perfect striped blouse that, of course, I immediately put on.