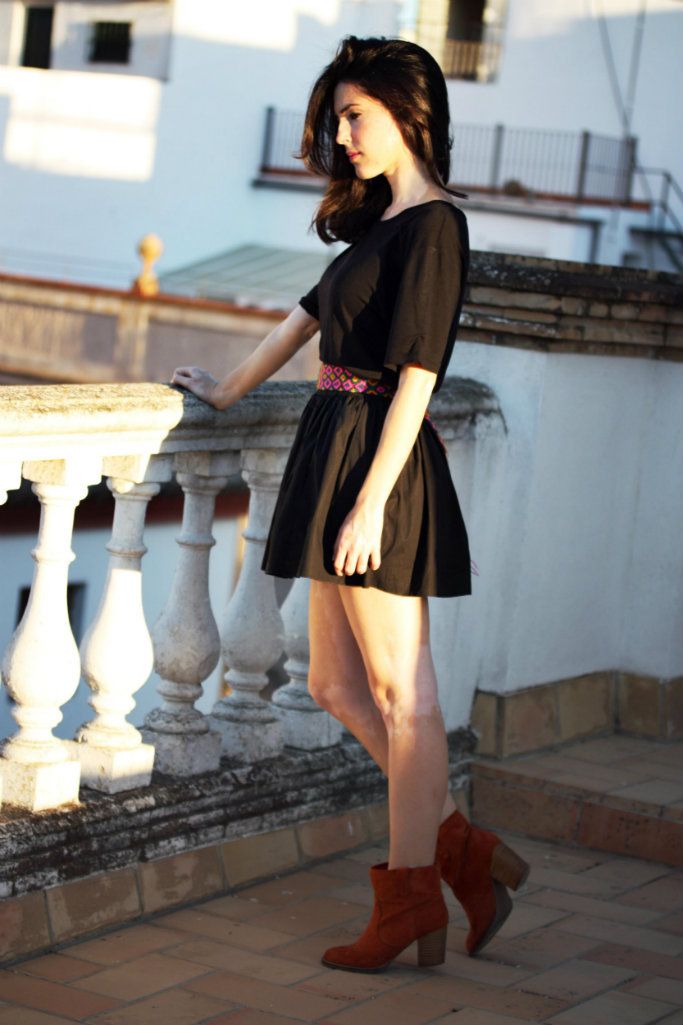 Falda/Skirt: Blanco - Camiseta/Tshirt: Mango - Botas/Boots: Bershka - Cinturón/Belt: regalo de Nepal/gift from Nepal
Una de las cosas que más me gusta hacer es bucear en armarios ajenos y en los baúles de los recuerdos. Tengo un tío muy aventurero que ha viajado por todo el mundo, y me he pasado la infancia recibiendo lo que yo de pequeña veía como disfraces. Tengo un montón de fajines, chaquetillas, cinturones y faldas con cristales, hilos de colores, espejos,... Se han pasado años y años esperando en casa, pero ahora por fin los estoy usando. Estos cinturones que mi tío me trajo de Nepal (tengo otro parecido en verde, azul y amarillo) son perfectos para animar el conjunto más soso: coges una camiseta y una falda negra y, voilà, tienes algo distinto.
English version: I love to dive into other people's wardrobes and old trunks. I have a very adventurous relative who has travelled all around the world, and my childhood is, in some sense, a mix of memories in which he gave me the most strange souvenirs that I took as costumes. I own a lot of sashes, boleros, belts and skirts embellished with crystals, colorful threads, little mirrors,... For years and years those little wonders have been waiting, but now I'm using them a lot. This is one of the belts my uncle brought from Nepal (there's another one in blue, green and yellow), they are just perfect if you want to brighten up the dullest outfit: take a black tshirt and skirt, and, voilà, get something different.