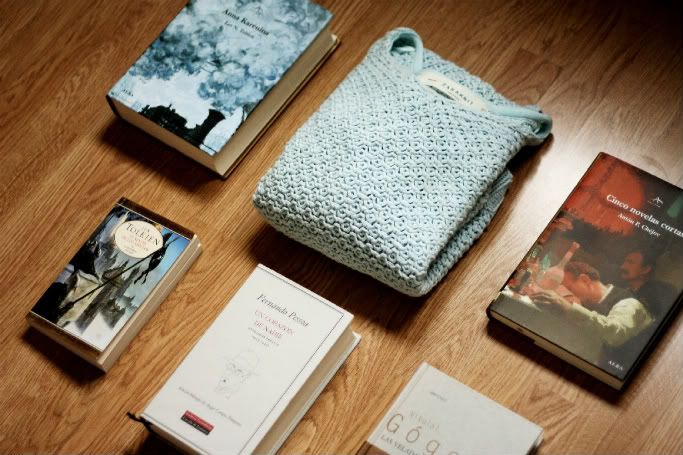 Tras algunas dudas he decidido incluir en el blog alguna entrada sobre libros. Mientras escribo esto me imagino cómo va a bajar drásticamente la gráfica de visitas, pero ya no me voy a preocupar mucho por ello.
No soy dada ni a fijarme propósitos cada año ni a obligarme a leer, pero, aunque leo mucho, siempre tengo la sensación de que lo hago de una forma desordenada y me dejo muchas cosas en el camino. Es decir, si me pongo con Chéjov seguramente acabe leyendo treinta veces mi cuento favorito (La tristeza), y me deje a la mitad sus novelas cortas.
Por eso, a comienzos de enero, tras la re-re-relectura de Guerra y Paz, me decidí a ponerme un plan y elaboré, tan bien como pude, una guía trimestral de libros, intentando combinar lo que más me gusta con lo que más me cuesta.
La verdad es que conforme iba leyendo iba quitando y poniendo libros de mi lista: sustituí a Rudyard Kipling por Tolkien (que me cuesta mil veces más), y quité a Balzac y puse a Pessoa.
Al final creo que lo del planning solo sirve para cambiarlo totalmente a mi gusto y excusarme en que lo hago por motivos objetivos.
Si alguien ha llegado a leer hasta aquí, y aún no se ha decepcionado porque no diga ni una palabra del jersey tan mono de la foto (sólo pensé que quedaría bien en la foto), puede pinchar en el enlace y leer el cuento
La tristeza
(pincha
aquí
), y creo que me lo agradecerá.
English version:
After some hesitation I've decided to include in my blog some posts about literature. As I write this post I'm thinking about how drastic the descent of the visits will be, but I don't care too much about that anymore.
I'm not a newyearsresolutions person or someone who forces herself to read. Actually, I read a lot but I always feel like I should have an order when I choose a book because I'm missing too many things. I mean, if I decide to read Chéjov, I'll probably end by reading 30 times my favorite short story (Misery) and let the rest unread.
This past January, after re-re-reading War and Peace, I decided to set a planning and made, as well as I could, a quarterly reading list, trying to combine what I like the most and what I never read.
But the truth is that, as the weeks went by, I started doing changes on my list: put Tolkien instead of Rudyard Kipling (I'm a big fan of Kipling, not that much of Tolkien), and put Pessoa instead of Balzac.
After the first three months of my experiment, I think the only usefulness of my list is giving me the chance of changing it completely, of course I excuse myself because I'm convinced I change it for objective reasons.
If you have arrived here, and still don't feel deceived because I didn't say a word about that cute knit (I just thought the photo would look better), then you can click on the link (
here)
and read my favorite Chéjov short story:
Misery
. I think you won't regret it.