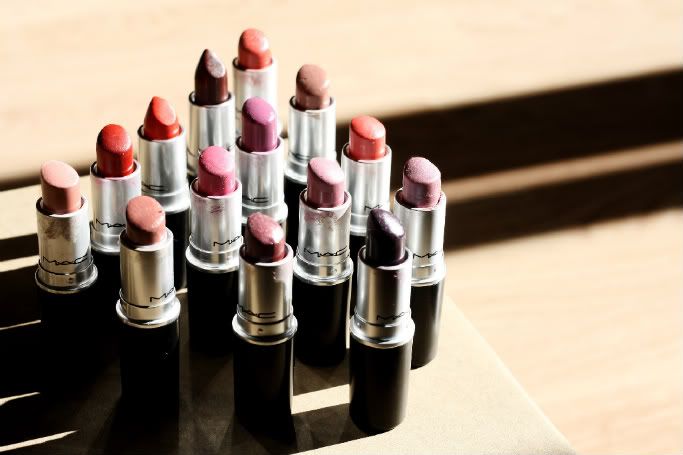 Me siento muy culpable por dejar esto tan desangelado durante tantos días, pero me sentiría aún más culpable si no hiciese las otras cosas que tengo que hacer (me daría un chungo, en realidad). De todas formas, aun sin mucho tiempo, he pasado un rato esta mañana haciendo algo que creo que os gustará: he ordenado mi cuarto de baño (gran sonrisa).
No sé si os pasa a vosotros pero mi cuarto de baño es una especie de desván higiénico-estilístico en el que voy echando las muestras que me dan, los champús de los hoteles (los coges por si algún día te hacen falta, y te olvidas de que en casa tienes litros de champú), brillos de labios de cuando tenías 14 años, cajas de horquillas que de algún modo misterioso desaparecen y vuelven,... Aparte de eso tenía todos los pintalabios de MAC en distintos bolsos y, bueno, esto tenía que acabar algún día. Los he buscado, encontrado y metido en el mismo sitio. Me ha hecho tanta ilusión verlos por fin juntos y me han parecido tan bonitos que no he podido resistir la tentación de hacerles una foto.
English version:
I'm feeling very guilty for neglecting the blog, but I would feel much worse if I neglected my other tasks. Anyway, even though I'm still very busy, I could spend a whole hour this morning on something I think you'll like: I've been tyding up my bathroom (big smile).
I don't know if it's me but I think every bathroom ends as an hygienic-stylistic attic where you leave the make-up samples, hotels shampoos (why do I take them when I have dozens of shampoos at home?), 10 years-old lipglosses, hairpins that vanish and reappear,... Appart from that mess all my MAC lipsticks were in different bags and, well, I had to do something. I've look for them, found them and put them all in the very same place. I was so happy to seem them all together, at last, and they look so pretty that I couldn't resist taking a photo.