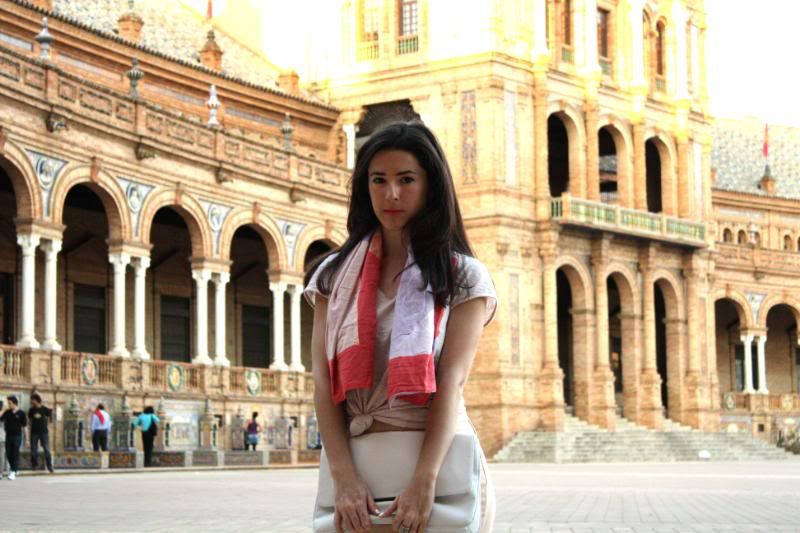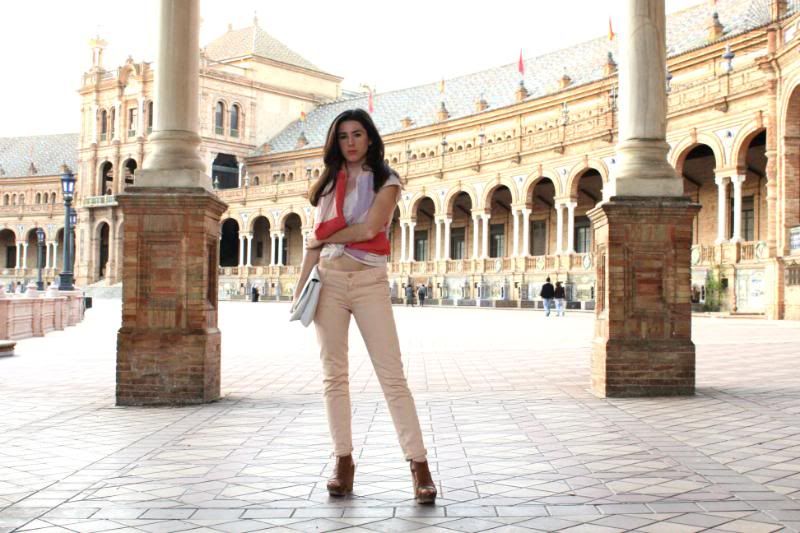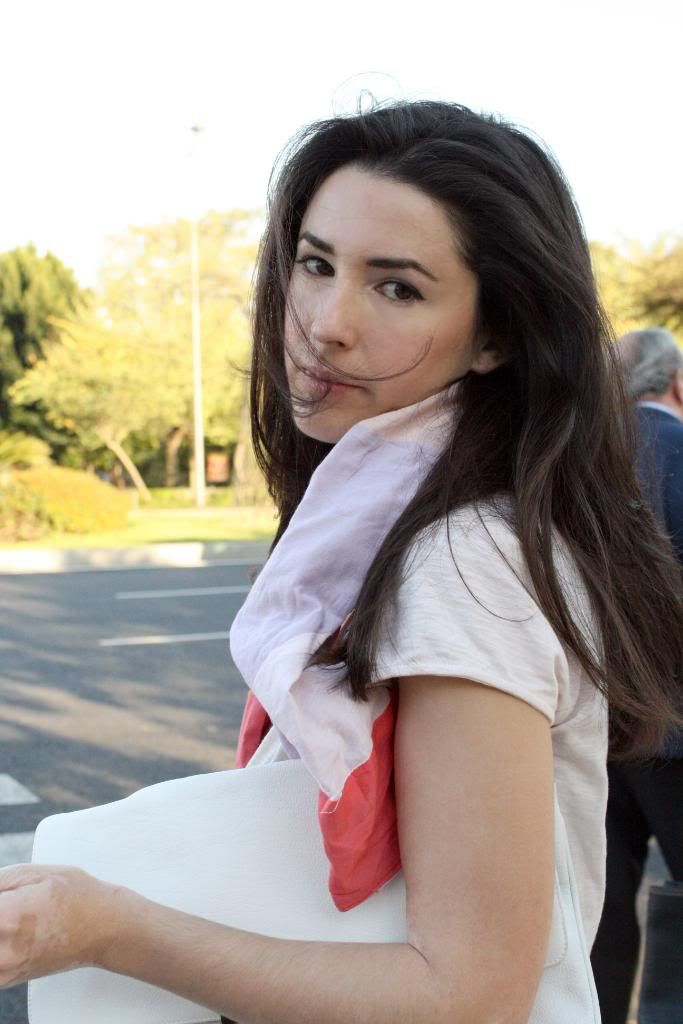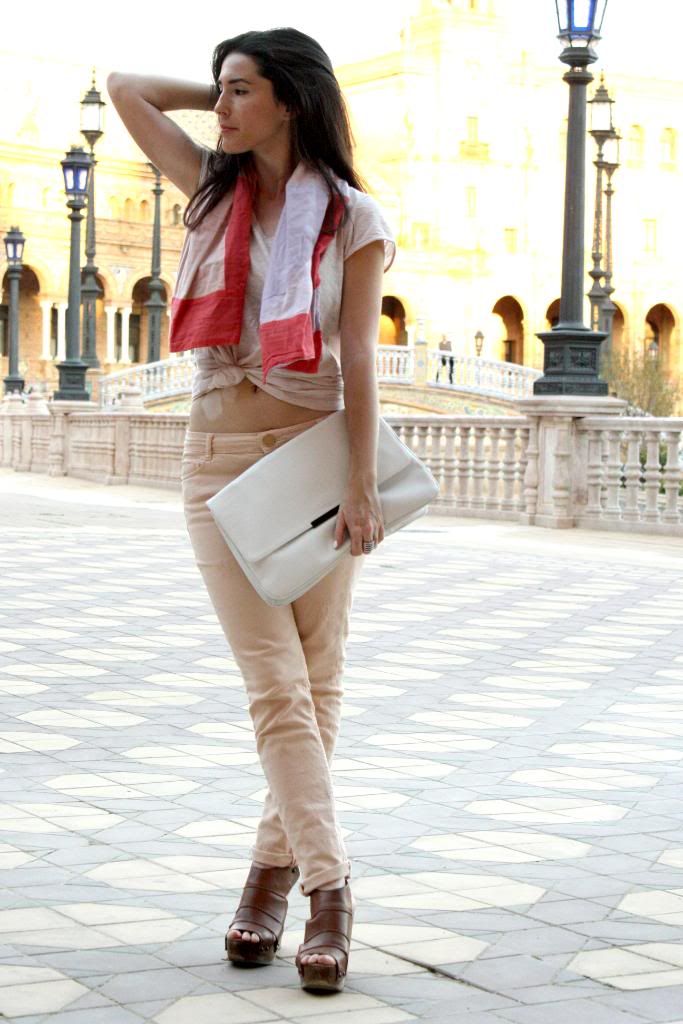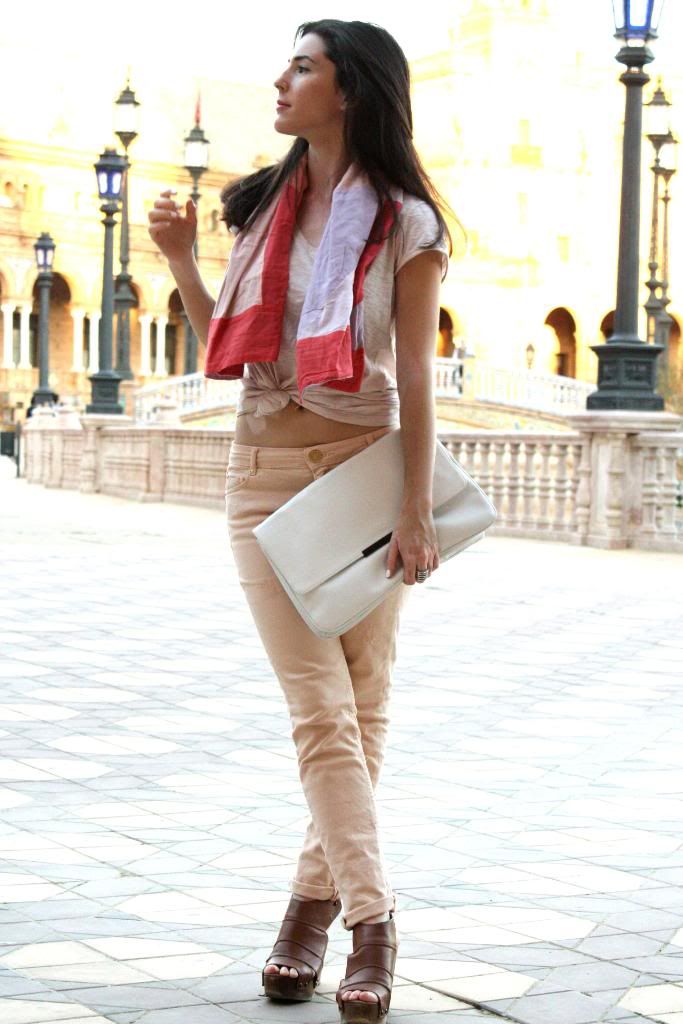 Pantalones, cuñas y bolso/Pants, wedges and bag: Zara; Camiseta/Tee: H&M; Pañuelo/Scarf: Mango
Un post sobre la foto del post anterior.. Estoy llegando a límites inexplorados en cuanto a falta de inventiva... Sea como sea, el miércoles salí con mi amiga Cris a hacer fotos. Teóricamente era ella la que me iba a servir a mí de modelo, pero tuvo la amabilidad de coger la cámara un rato y hacerme fotos para el blog. Y no están nada mal, ¿verdad?
Ayer estuve todo el día metida en un bar en una fiesta de cumpleaños y aunque me lo pasé genial tengo un poco de cargo de conciencia por no haber aprovechado el sol, ya que hoy llueve a cántaros. ¡Estamos en abril, queridos! En Sevilla es el mes más importante del año, y esto de la primavera y una hora más de sol me tienen eufórica. Mis metas para este mes son: conseguir coserme yo misma algo que se pueda sacar a la calle y terminar El cementerio marino de Paul Valéry (lo abandoné frustrada en la estantería y ahí está desde hace meses).
English version:
A post about the picture of the previous post... I'm getting to unexplored limits thanks to the lack of inventiveness...
However, last wednesday I met my dear Cris for a photoshoot. It was her who was going to be the model theoretically, but she is so kind that took the camera and took some pics for the blog. They're not bad at all, uh?
Yesterday I spent the whole day in a birthday party, indoors, and although I had a great time my conscience is pricking me for not taking advantage of the sun, cause today is pouring with rain. It's April, lovelies! April is the most important month in Seville, and we're in spring and we have one more hour of light and I'm euphoric. My aims this month are: get to sew something by myself that I can take outside and finish The graveyard by the sea by Paul Valéry (I abandoned it, frustrated, on the shelf and there's where it's been for months).