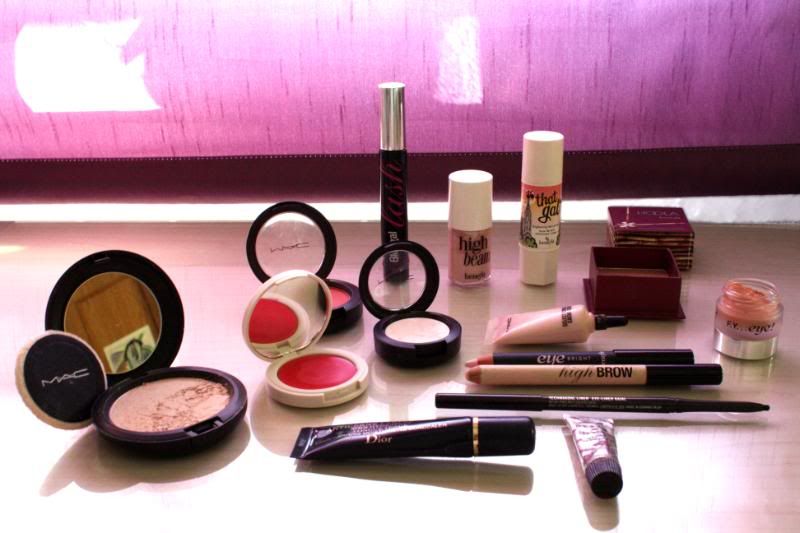 Rimmel: Bad gal lash (Benefit)
Eyeliner: Graphblack kajal (M.A.C.)
Blot pressed powder/Polvos compactos matificantes: Medium tone (M.A.C.)
Blushes/Coloretes: Pinch (Topshop) & Fleur power (M.A.C.)
Luminescent complexion enhancer/ Iluminador (Benefit)
That gal brightening face primer/Pre-base brillante That Gal (Benefit)
Hoola bronzing powder/Polvos bronceadores Hoola (Benefit)
Select cover up pink/Corrector rosa (M.A.C.)
Cream colour base Luna/ Base crema color Luna (M.A.C.)
Concealer 430/Corrector 430 (Dior)
High Brow/Iluminador bajo-ceja (Benefit)
Eye bright/Iluminador de ojos (Benefit)
Eye shadow base F.Y... eye!/Pre-base ojos F.Y... eye! (Benefit)
Lip gloss: Pink shine (Stila)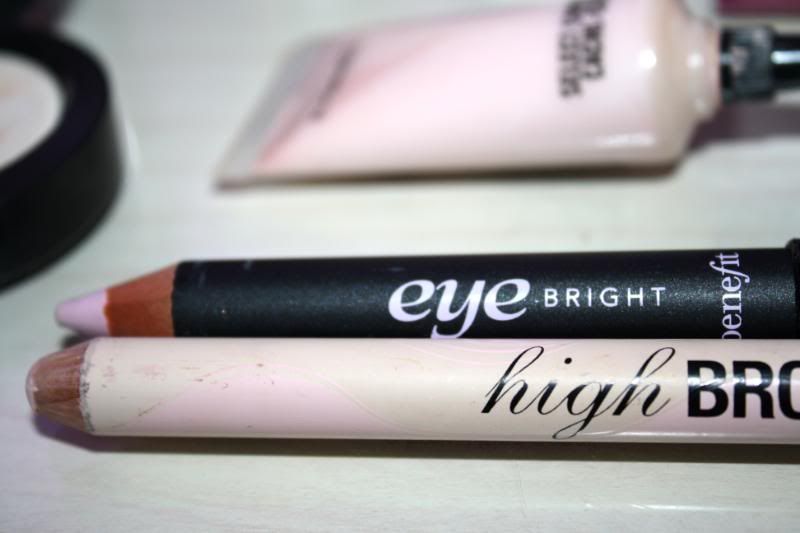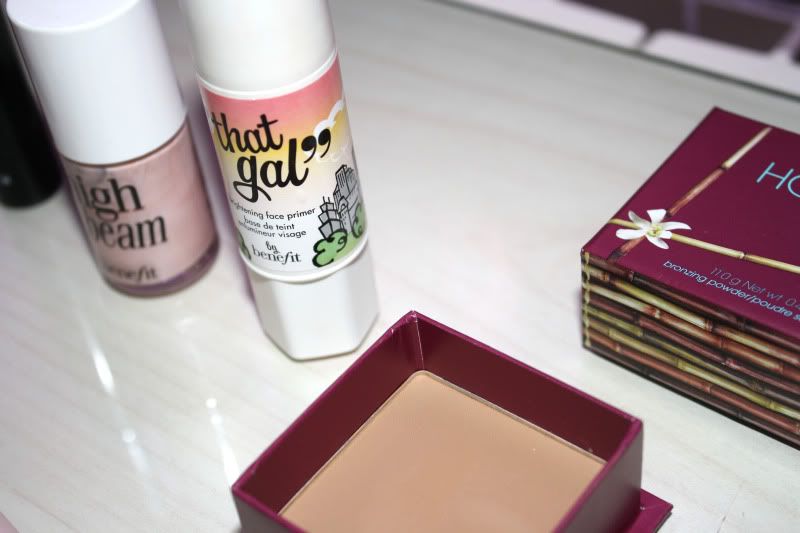 Llevaba tiempo queriendo hacer un post sobre los básicos de maquillaje que uso. Cuando digo básicos no quiero decir indispensables, sino primarios, los que hacen un rostro sin muchos artificios, los que puedes usar todos los días. Curiosamente, entre ellos no hay demasiados productos de M.A.C. (como sabéis, soy adicta a esa marca), porque aunque creo que M.A.C. es idónea para el color, me gusta más Benefit para tratar la piel y dejarla bonita.
Obviamente no uso todas estas cosas todos los días, pero siempre uso algo para las mejillas y rimmel. Además, algunos de estos productos son de mi hermana Raquel, y aunque solemos prestarnos las cosas tengo que pedirle permiso antes.
No os he puesto ninguna base de maquillaje porque yo casi no uso, y no es que tenga una piel perfecta sino todo lo contrario: tengo un cutis tan desastroso que después de haber probado millones de bases diferentes aún no he encontrado una que pueda recomendar.
English version:
I had been thinking about a make-up basics post. When I say 'basics' I don't mean essentials, but primaries, those that make a face without affectation, those you can use everyday. It's odd there aren't many M.A.C. products between them (as you know, I'm addicted to this brand), because I think M.A.C. is perfect for color, but I think Benefit works better for skin treating.
Obviously I don't use all these things everyday, but I always use something for cheeks and rimmel. Some of these products are my sister's, and though we normally borrow things from each other, I have to ask her first.
I don't show any foundation because I don't use it. Is not I have perfect skin, quite the opposite: I have such a disastrous skin that after trying hundreds of foundations, I still cannot recommend one.