Bueno, he estado unos días un poco desconectada de esto: tenía líos en la universidad y el domingo llegó una prima para quedarse hasta hoy y ver la isla. Así que desde el domingo, llegó a la hora de comer, he hecho de guía y he sido también turista. El domingo por la tarde lo dedicamos a pasear por la ciudad y ver la Catedral de Santa María, la Torre del Elefante, el Castillo,... Y el Bastione, ¡por supuesto!
English version:
Well, I've been a bit disconnected last days: had some stuff at the university and a cousin arrived on sunday to stay till today and and see the island. So since this sunday, she arrived at lunch time, I've been working as a touristic guide and I've been a tourist also. We spent sunday evening walking and visiting monuments, we went to see the Santa Maria Cathedral, the Tower of the Elephant, the Castle,... And the Bastione, of course!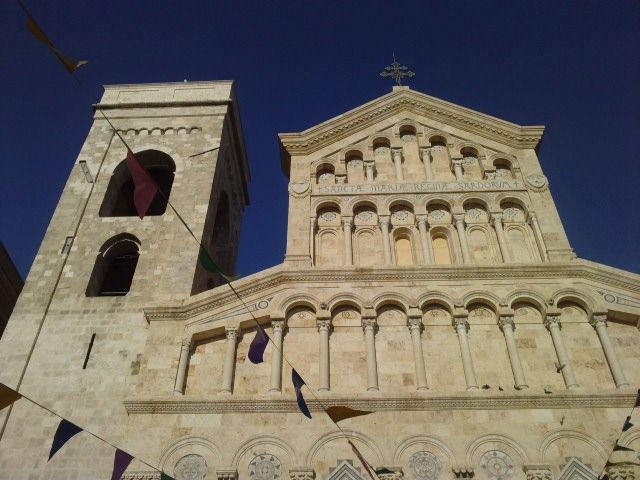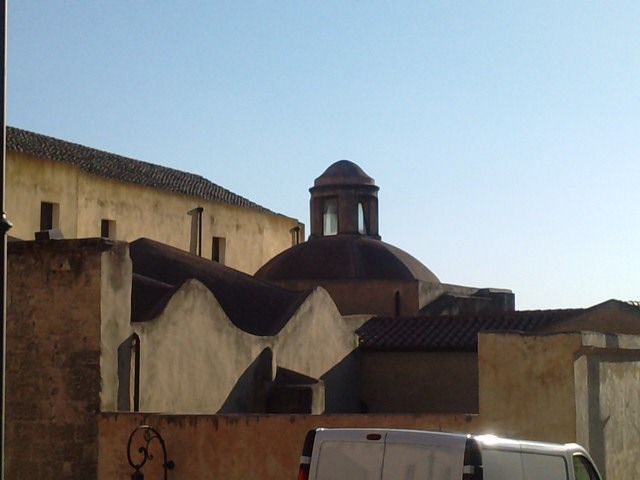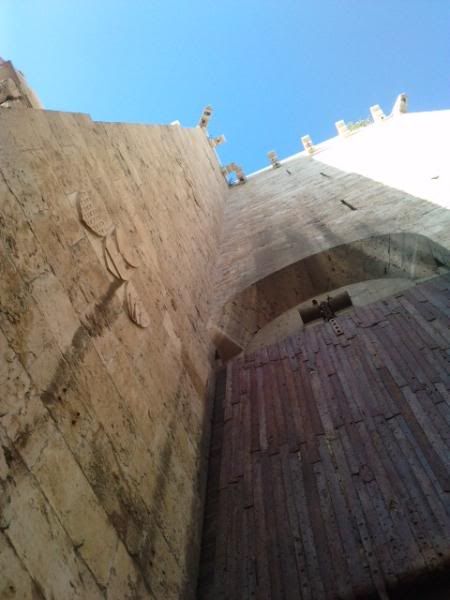 Entramos a ver una
exposición de fotografía
costumbrista de Luigi Comencini en el Teatro Civico di Castello, y cuando salíamos de allí hice unas fotos a dos collares que había expuestos en la entrada, de una diseñadora de bisutería italiana llamada Alessandra Solla, que me llamaron mucho la atención. No se ve muy bien porque la hice con el móvil y había un vídrio de por medio, pero seguramente se aprecie que son collares hechos a partir de conchas, piedras y cristales de la playa.
We visited a costumbrist photography exhibition by Luigi Comencini in the Teatro Civico di Castello, and when we were going to leave the place I took some pictures of a couple necklaces I saw on display, an italian designer called Alessandra Solla, they caught my eye. I don't know if you can see them well, cause I took the photo with my cell and there was glass in between, but probably you can appreciate that they're made with shells, little stones, cristals from the beach.
El día siguiente lo pasamos casi entero en Chia, seguramente la playa más perfecta que haya visto nunca. Hacía sol, un poquito de viento, y como la temperatura era agradable nos quedamos dormidas en la playa a las 2 de la tarde... Cuando nos despertamos (casi dos horas más tarde) estábamos rojas como remolachas. De todas formas, sólo por bañarse en esas aguas cristalinas mereció la pena.
The following day, we spent it almost completely in Chia, which is probably the most perfect beach I've ever seen. It was sunny, a little windy, and the temperature was so nice so we fell asleep at 2 pm... When we woke up (almost two hours later) we were red as beetroots. However, it was worth it just because of that crystalline water.
Ayer nos levantamos muy pronto y alquilamos un coche para recorrer la costa este de Cerdeña, desde Cagliari hasta Cala Gonone, pasando por Villasimius. Nos parábamos cada vez que encontrábamos una calita escondida, y nos sorprendieron mucho los cambios de paisaje tan drásticos que nos íbamos encontrando en el camino, sobre todo el tramo de montaña que había que rodear para acceder a Cala Gonone. Desgraciadamente, la carretera que sale de Cala Gonone hacia el sur (pensábamos tomarla de vuelta para ir bordeando la costa) está en obras, así que, a pesar de que el viaje fue genial, nos perdimos todavía más playitas. Estas son algunas de las fotos que tomé de sitios como Villasimius, Arbatax (las famosas "Rocas rojas"),...
Yesterday we woke up really early and rent a car to travel the whole length of the east coast of Sardinia, from Cagliari to Cala Gonone, stopping in Villasimius. Actually we stopped every time we found a remote cove, and we were surprised by the really drastic changes of the scenery, specially a mountain stretch we had to take to get to Cala Gonone. Unfortunately, the road that connects Cala Gonone with the southern part of the coast is being repaired, so, although the trip was great, we couldn't see even more beaches. These are some of the pictures I took of some places: Villasimius, Arbatax (the famous 'Red rocks').